Your Garden is the main area where you create and merge Creatures, and discover objects and merge chains. It is also the place where you receive all Level Rewards. The garden is unlocked upon completing Hillside 2.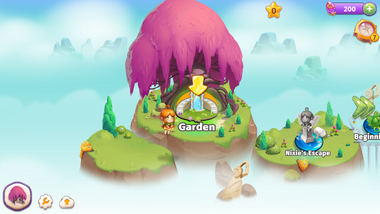 There is a doorway into your Garden to the left of Nixie's Escape, the first level in the game.
Your Garden is mostly covered in forest that is under a Binding Spell, making it a appear dark and foreboding. To get rid of it and expand your land, collect Creatures to accumulate Magic Power. The more power you have, the more Cursed Land will be uncovered, and you have to bless it through Blessing Power.
There is also some Premium Land at the bottom of the garden which can only be unlocked through spending money.
Detailed Guide
Edit
Outside of your Garden, there is a doorway to enter. There is also a chest of Magic Gems on a small island to the left, which is a means of getting into the Magic Gem Shop. The number in the Gold Star below shows the number of Garden Quests completed. To the right of it, the board contains other information about your Garden, such as your best 3 Creatures (random 3 if there are more) based on their rarity, your current total Magic Power, your current score and the amount of Land you have unlocked and blessed.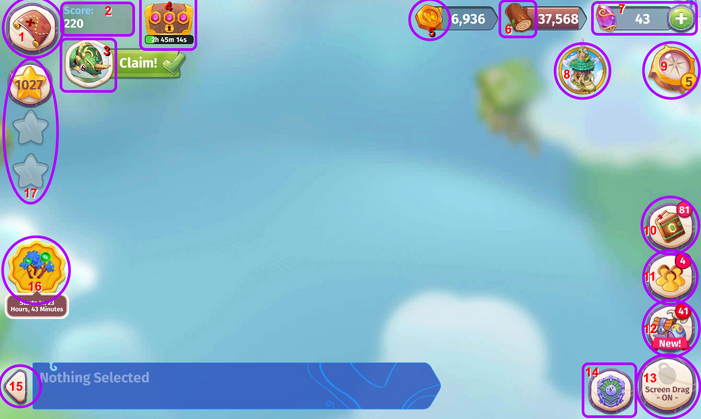 In your Garden, starting from the top left corner, in a clock-wise direction, we have:
Map Button - Brings you to the World Map.
Garden Score - Increased through merging objects and does not unlock anything.
Chest Room - Opens up a mini screen showing the Bountiful Chests you have gotten from Levels.
Coins - Tapping it shows the Coins mini screen, showing your max Currency capacity, tips on how to get and where to spend them.
Wood Logs - Tapping it shows the Wood Logs mini screen, showing your max Wood Logs capacity, tips on how to get and where to spend them.
Magic Gems - Tapping it shows the Buy Magic Gems Menu.
Creature Book - Shows all Creatures you have.
Social Corner - Invite friends and receive Gifts.
Screen Drag option (Bottom right corner) - While it is active, the screen will be frozen in place, although you will be able to zoom in or out.
Object Information (Bottom left corner) - Tap the arrow to expand or hide the information on the currently selected object.
Garden Quests (3 Stars in a column) - Doing Garden Quests gains you Goal Stars.
Quest Stars - Shows the number of Garden Quests you have completed.
Community content is available under
CC-BY-SA
unless otherwise noted.